Article
Investment infrastructure re-imagined

Following the announcement of DriveWealth's $57m Series C round led by Point72 Ventures with participation from Raptor Group, SBI Holdings, Route 66 Ventures and new investors Mouro Capital and us at Fidelity international Strategic Ventures (FISV), I wanted to share a bit more on what got us excited about this incredible global digital trading technology platform.
Over the past five years, the competition in retail brokerage has intensified with traditional platforms, free or low-cost brokerage apps and other fintechs vying for retail investors attention. This has been driven by the following trends:
Re-bundling & embedded finance: Fintechs are now attempting to re-bundle the full service bank into a single, engaging, digital user experience, and brokerage is quickly becoming a hygiene factor. Revolut, one of the largest D2C FX platforms in Europe, has branched out into banking, savings & investment services, while some of the more innovative payment firms are examining how they can provide shares as loyalty bonuses rather than store points.

Free / low cost brokerage: The status quo in retail brokerage were fees of $5-$30 / trade complemented by obscure additional fee structures. However, the rise of digital-only free or low fee trading platforms such as Robinhood, Freetrade or BUX have gained significant media and customer traction and continue to lead the way in providing cost-effective trading alternatives to a wide audience.

Fractional shares: Due to size and price constraints, clients (especially younger ones) want to trade in fractional shares and several fintechs have either launched or announced fractional shares brokerage offerings globally, which has led to strong desire for this capability from incumbents as well.

Incumbents responding: Incumbents in the US have responded to the rise of these challengers with significant investments in digitization and introduction of free trading to keep current and attract new customers [1]. We expect the same trend to play out in Europe with equity trading through a digital experience becoming a must-have for any investment platform.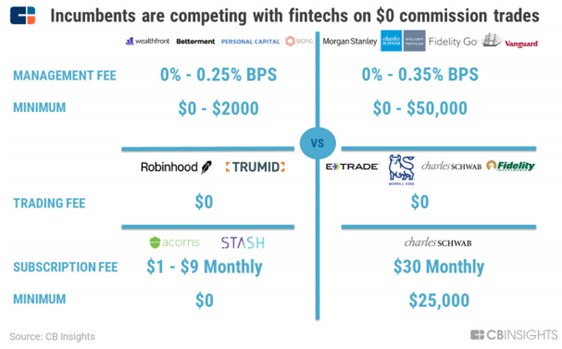 However, as financial services firmly enters the digital age, most of the existing brokerage infrastructure that underpins these platforms is still defined by outdated technology, complex systems and expensive maintenance. While many fintechs outsource the entire brokerage stack to third-parties, these solutions have been sub-optimal as legacy technology struggles to deliver the native experiences clients expect.
Enter DriveWealth
A global brokerage-as-a-service provider that enables fintechs, technology companies and incumbents alike to embed self-directed trading products into their platforms.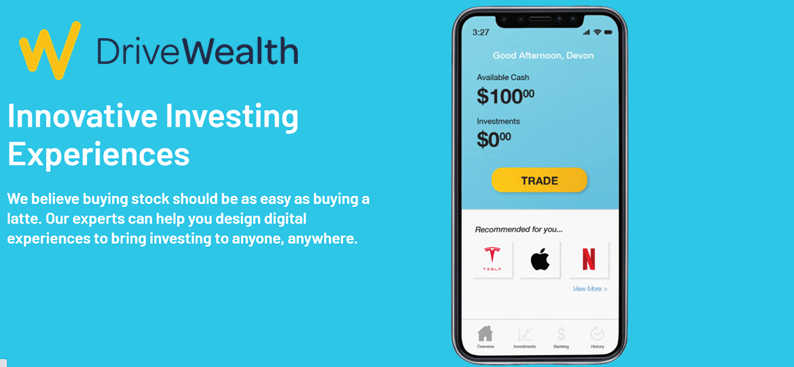 Their full-stack, cloud-based and API-driven technology platform with real-time fractional share trading capabilities uniquely positions DriveWealth to capture the brokerage renaissance in the US and become the "Stripe for brokerage" as both fintechs and incumbents across the globe are opening access to the US market.
Led by Robert Cortright, a financial services heavy-hitter and serial-entrepreneur, DriveWealth works with a number of fintechs such as Hatch (UK), Revolut (EU), Stake (AUS), Vested (India) or Moneylion (US). They offer access to the US equities market to millions of investors in 153 countries and embed investing into new and exciting digital experiences.
DriveWealth's performance is a testament to the team's ability to deliver and fill the infrastructure gap in the market. Customer accounts have grown almost 500% year-on-year and in Q2'20 DriveWealth's partners opened more accounts than E*Trade, Schwab, and TD Ameritrade combined and Q3'20 saw a 33% increase over Q2, with record highs in number of trades and volume traded, outperforming market growth in the quarter [2].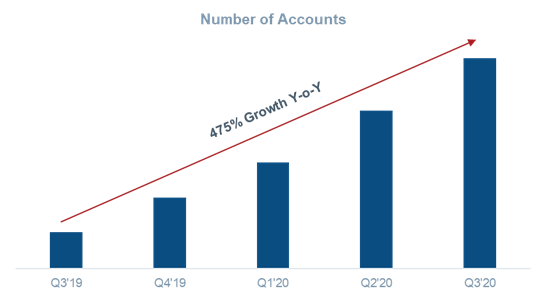 We are very excited to partner with the DriveWealth team and support them in modernizing brokerage infrastructure to allow both fintechs and incumbents alike to deliver embedded investment experiences and democratize investing.
Disclaimer: opinions are my own and do not necessarily reflect those of Fidelity International Strategic Ventures, Fidelity International, or any affiliated parties.
[1] CB Insights, Wealth Tech Trends To Watch in 2020
[2] DriveWealth Global Retail Trends 3Q20